Case Studies
The PBR Project
Introduction
The Puebla de la Reina property covers 90km² and consists of 299 individual Mining Grid rectangles, which form a contiguous block. It is mostly situated in the municipalities of Palomas and Puebla de la Reina and covers both namesake settlements but also overlaps the municipalities of Alange and Oliva de Mérida in small areas along the northern property boundary. Regionally the property lies in the Province of Badajoz in the Autonomous Community of Extremadura, Southwest Spain.
The property surrounds a single Mining Grid rectangle which covers a small industrial minerals or stone quarrying operation about 2.2km southeast of the village of Puebla de la Reina operated by Majoin SL, a construction company.
Nearby regional towns include Badajoz (80km west-northwest), Mérida (35km northwest), and Almendralejo (25km west). The nearest major cities are Seville (140km south), Madrid (300km northeast) and Lisbon, Portugal (250km west).
The claim block itself is titled the Permiso de Investigación "Herrerías" # 12.785, which was demarcated in March 2013 (Morales 2013). The permit was originally granted for a three-year period.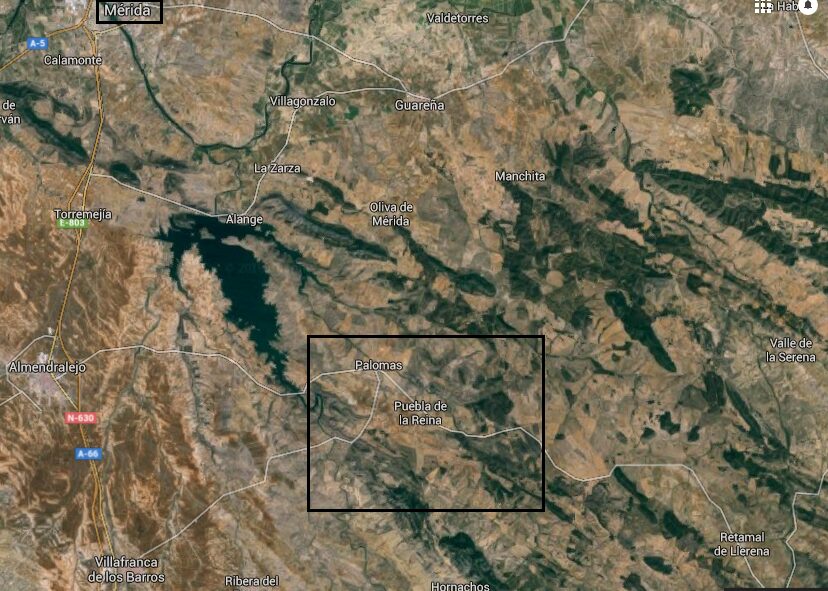 Historical Exploration Work
IGME (1983 – 1987)
Mapping: (1:10,000 scale) of an area of 20 Km2. Detailed mapping (1:2,000 scale) over 1.4 Km2 (northwestern PBR)
Outukumpu (1999 – 2001)
Mapping: (1:10.000 scale) of an area of 74,5 Km2
Outukumpu indicated a provisional estimation resources of Puebla la Reina deposit,
500,000t @ 1.6% Cu, 11% Zn, 1.2% Pb and 32 g/t Ag
At present, the structure was only recognized in the northeastern area of PBR. Further works to consider the extension of exploration toward the west and southwest area of volcano-sedimentary formation.
Map and Location